Where people will see you
Where people can see you with Full Seznam
Your company on Seznam.cz's homepage
Up to 3 million people will see you every day. With your address, phone number, a link to your website and the option of getting directions right to your door.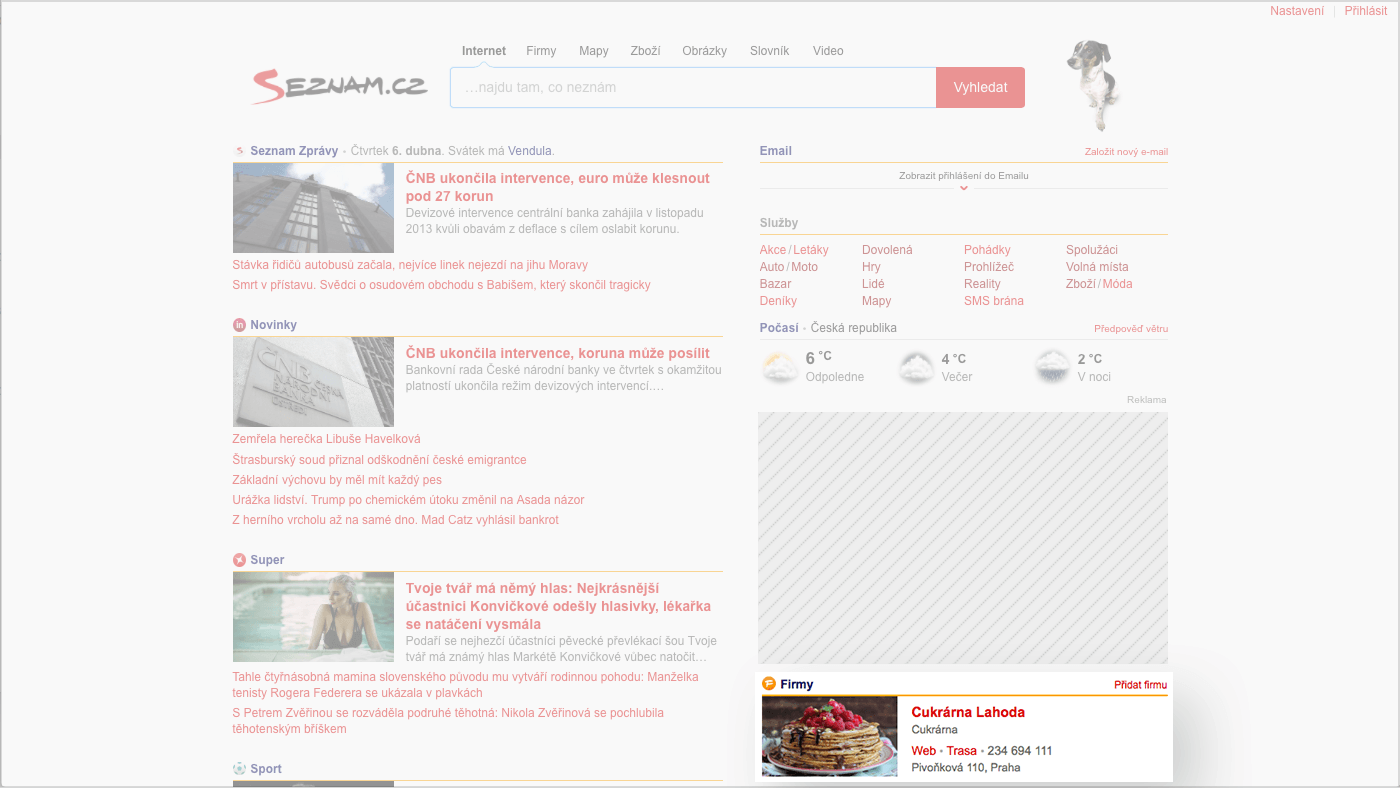 Snippet ad in the Seznam.cz search results
If your daily investment in the auction for selected keywords is among the top three, customers will find you in both the search results of Firmy.cz and Seznam.cz.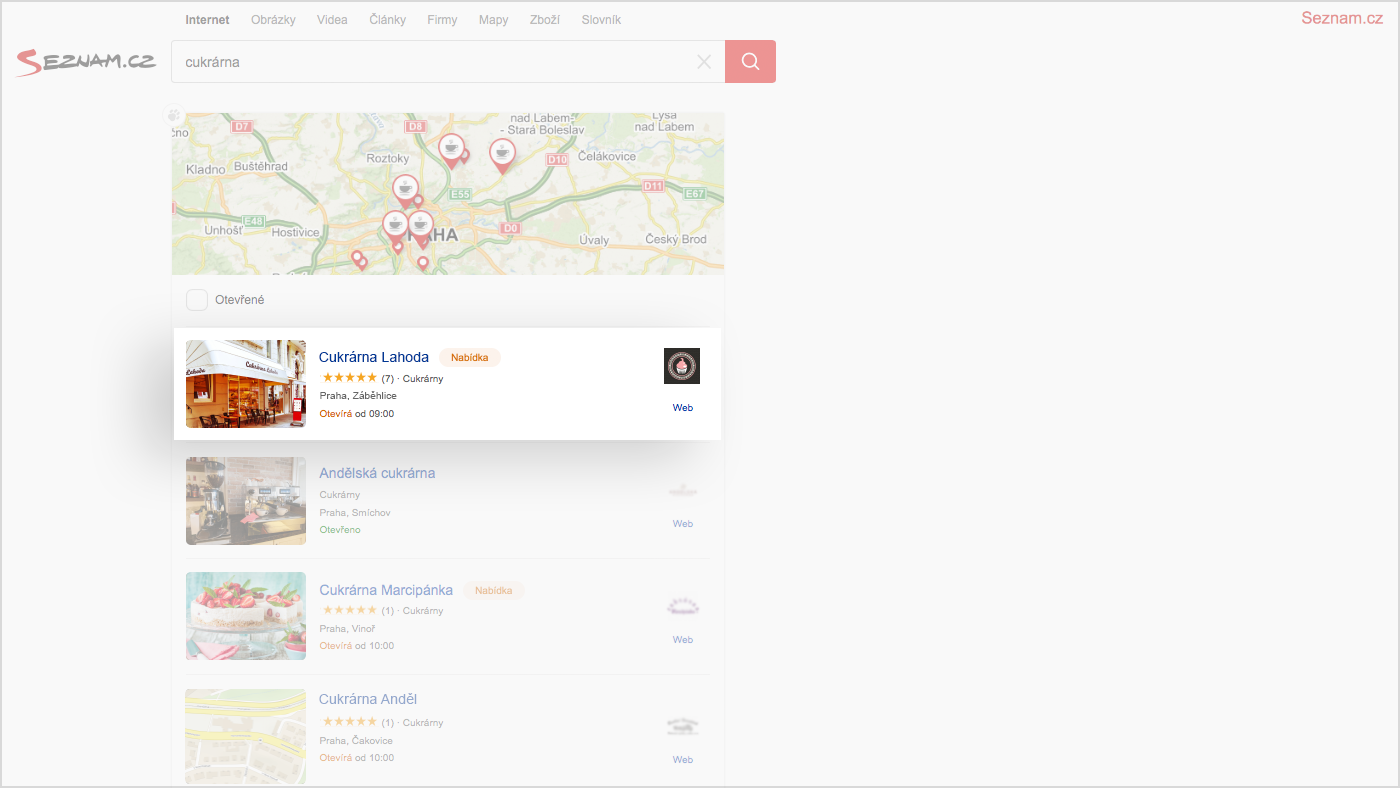 Search detail
When you click on the search result, you'll see the Search detail with complete information about your company.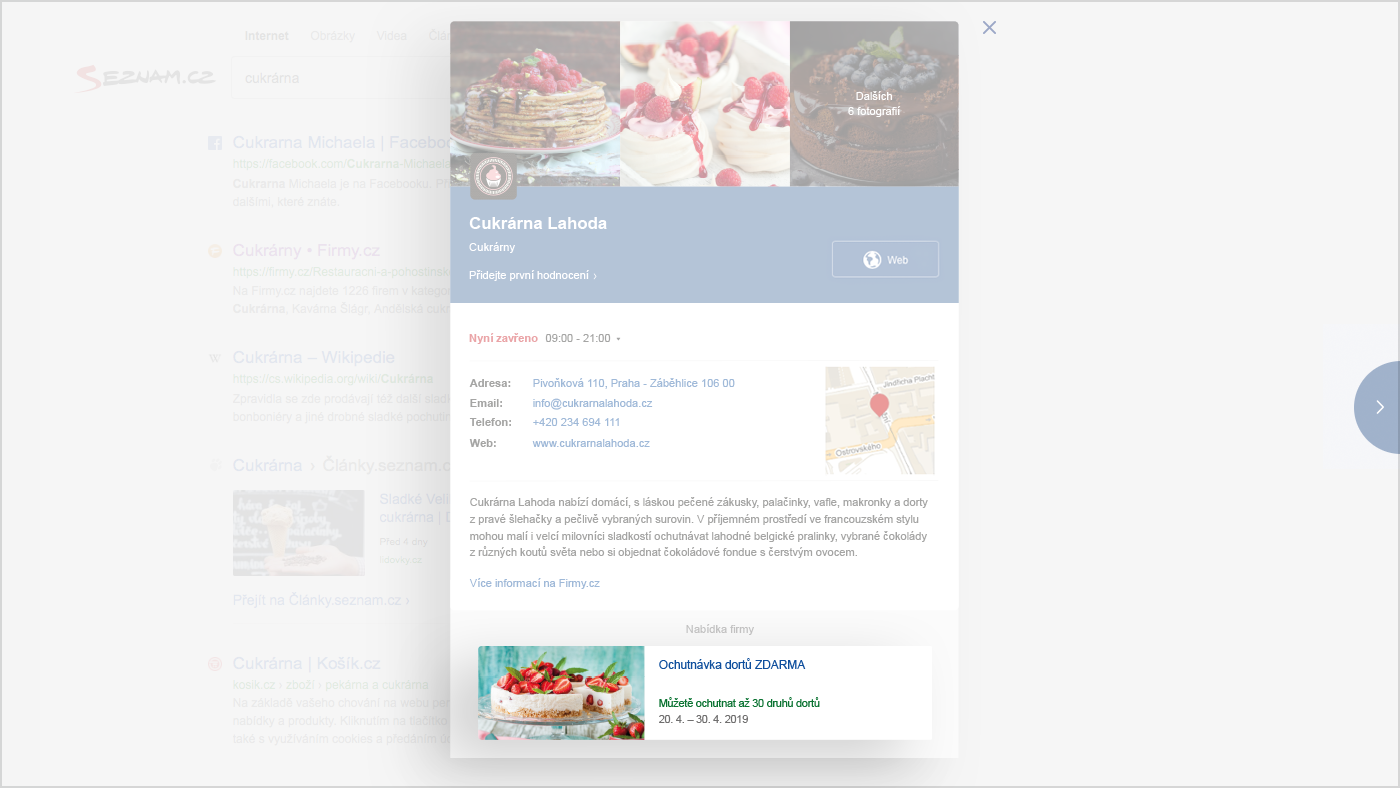 Business card in Seznam.cz search
Search results will include a card with detailed information about your company. This means the customers can immediately see whether you're open or what's the fastest way to get to you.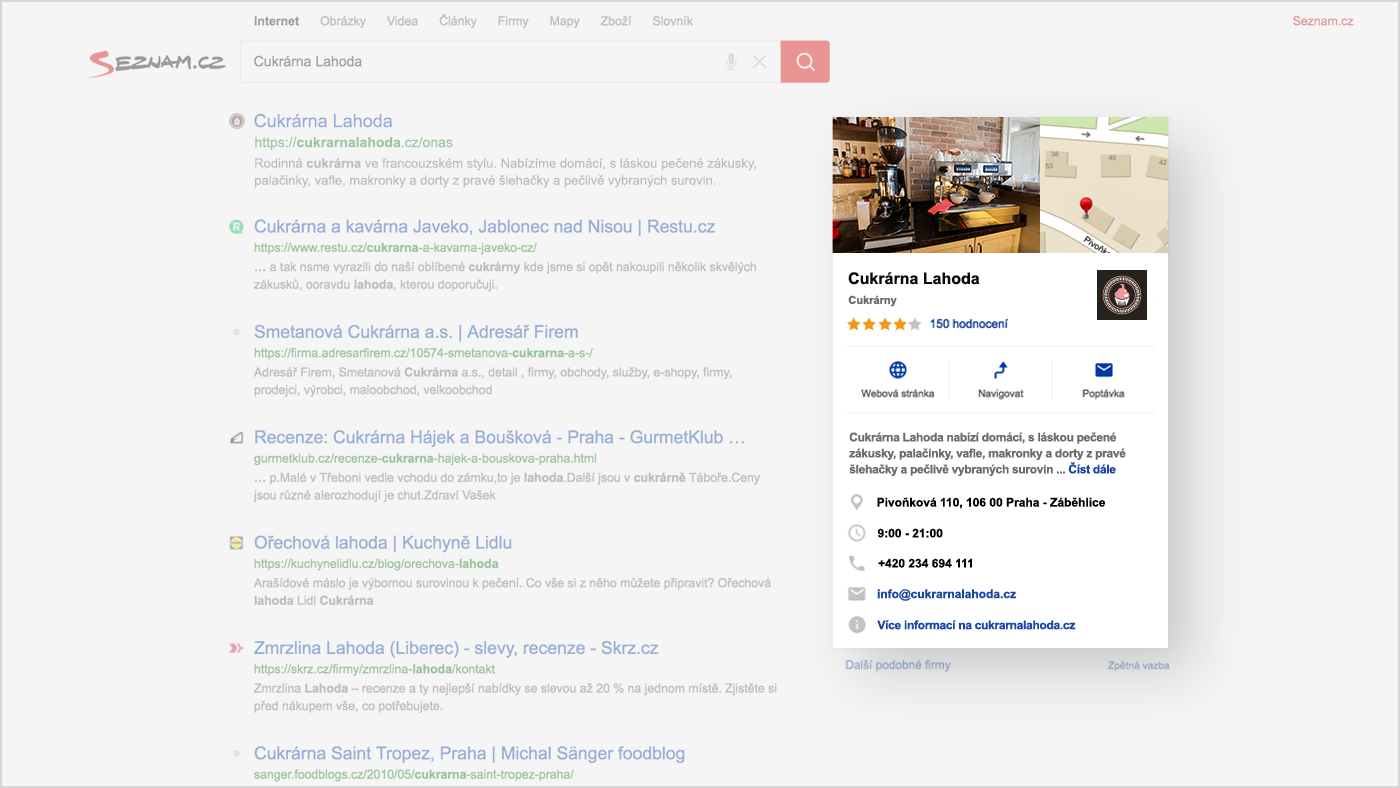 Priority placement and highlighting on Firmy.cz
Your profile will be displayed higher in the search results on Firmy.cz. There will be a bigger picture, your website, phone number, logo and the option of getting directions right to your front door with a single click. You also get a valuable backlink.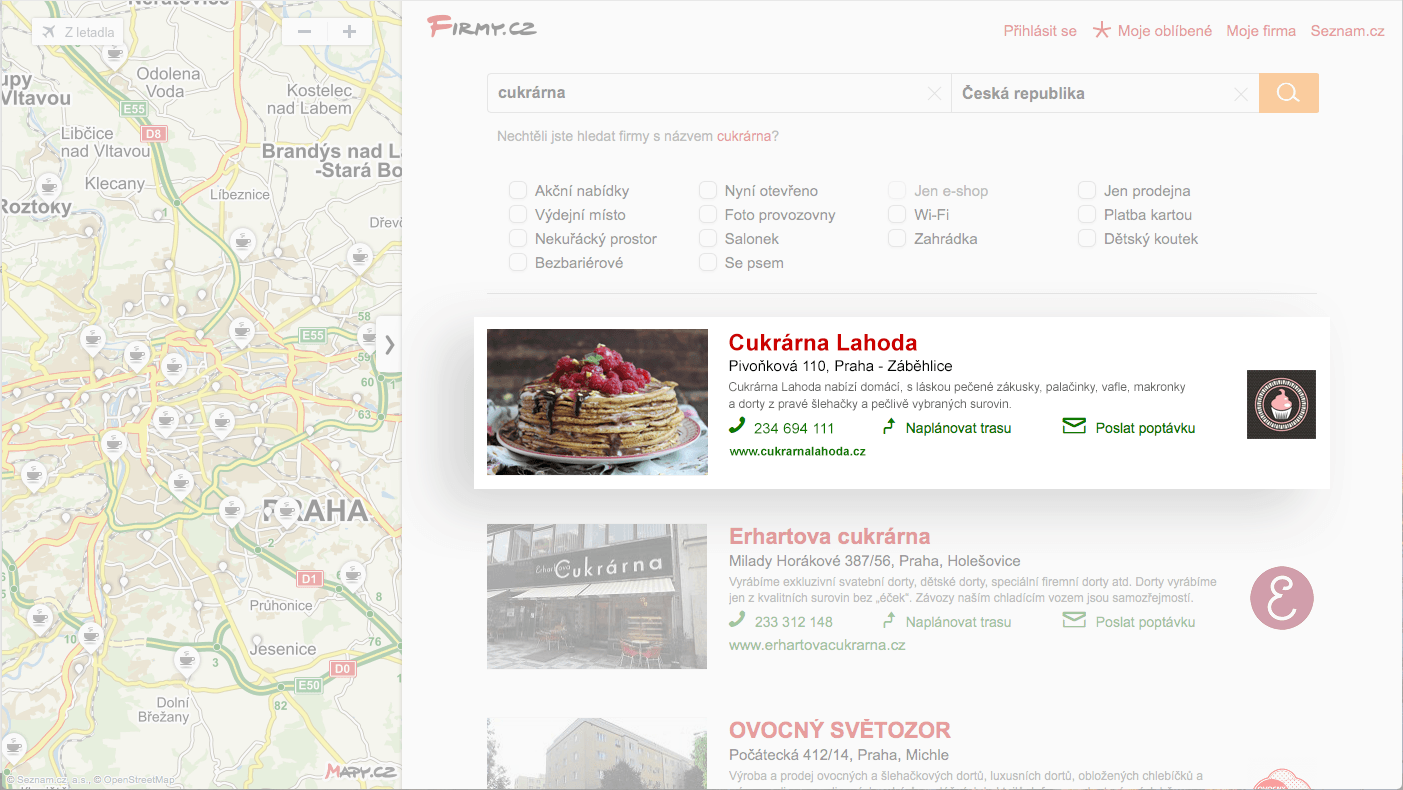 Priority placement and highlighting on Mapy.cz
Your profile will be displayed higher in search results on Mapy.cz. Your business's icon will be on the map will be preferred to the icons of free profiles.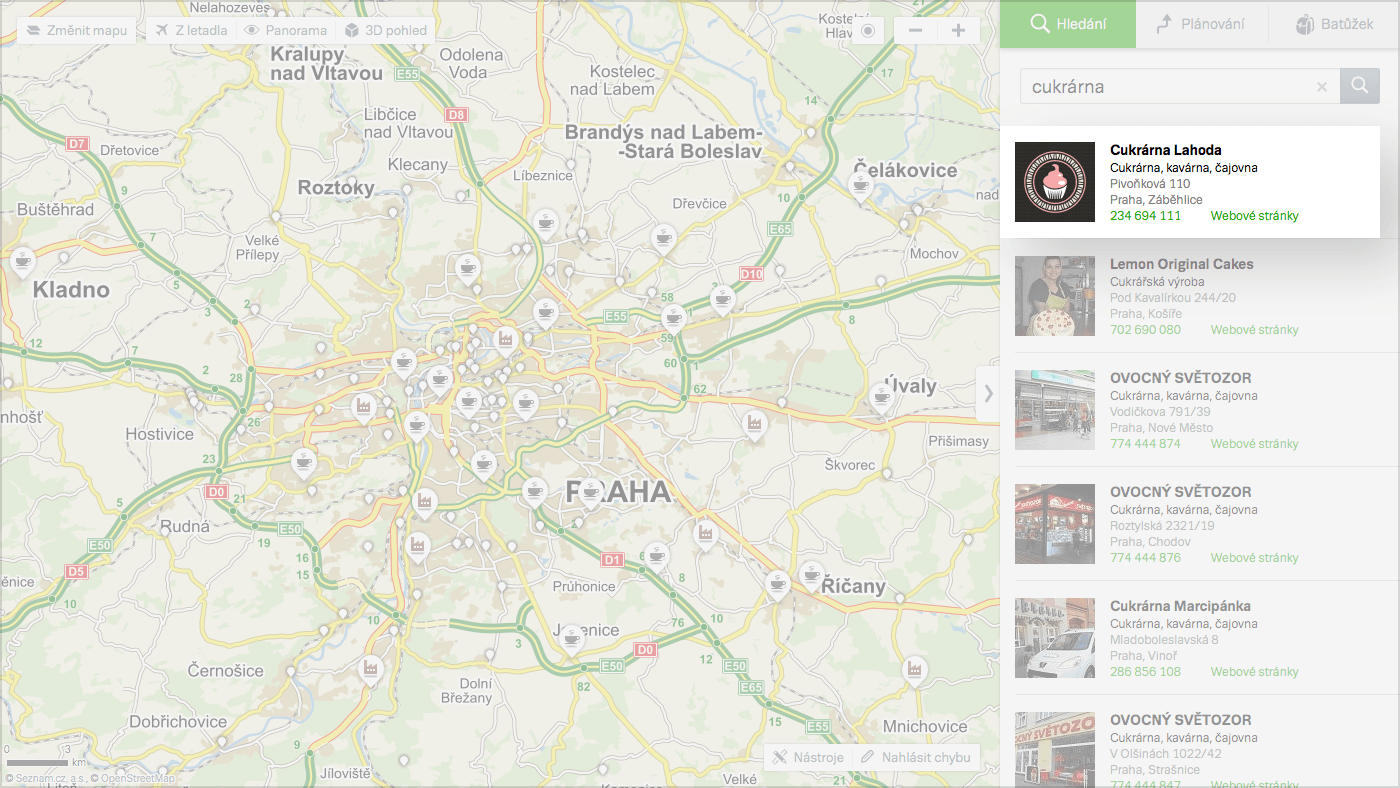 Search trends
We show companies from the industries that people are currently searching for on Firmy.cz's homepage. We give better positions to those who are currently participating in auctions for relevant keywords.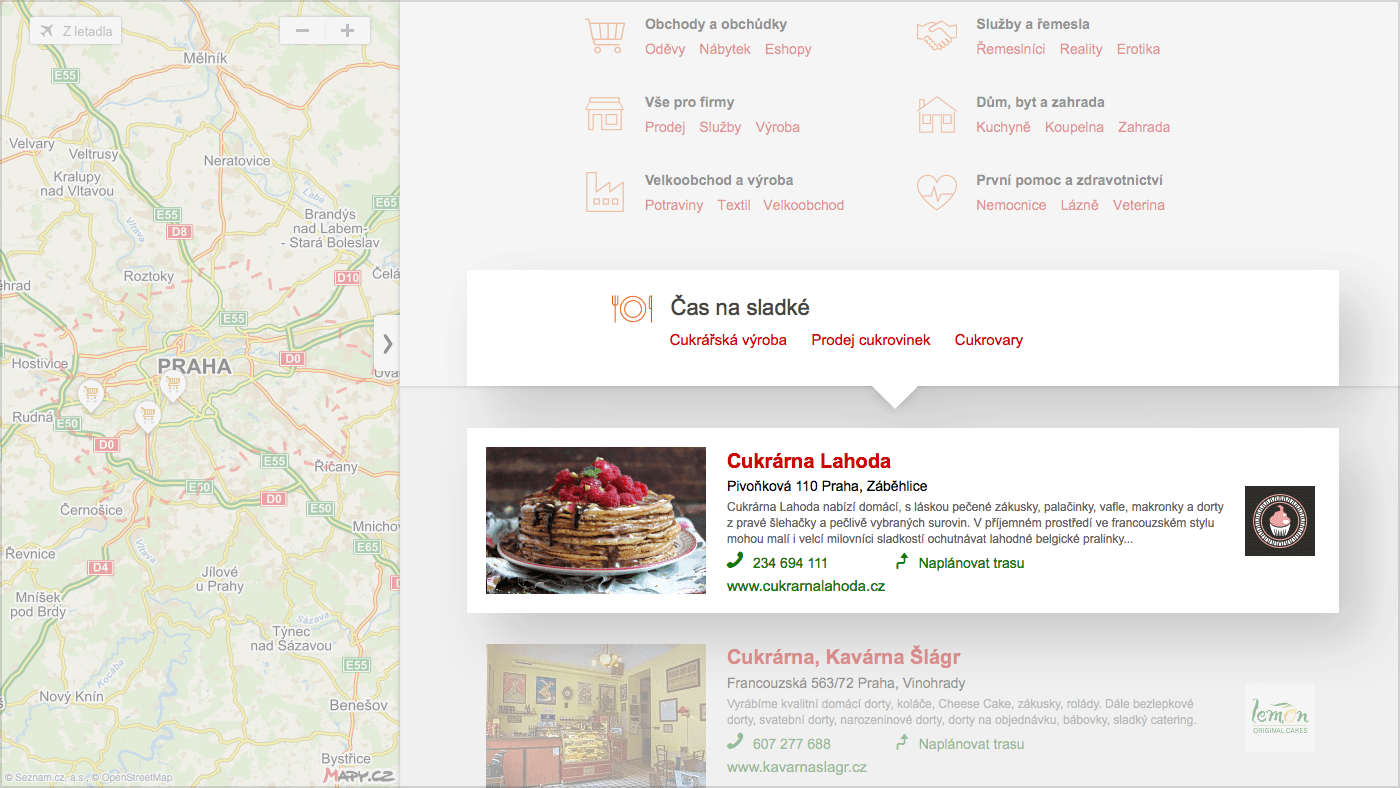 What will people learn about you
Full company profile
Your profile can include a logo, more contact details (e.g. reception desk, sales department etc.), 5 e-mail addresses and up to 20 pictures of your store or website. You can also add links to social networks.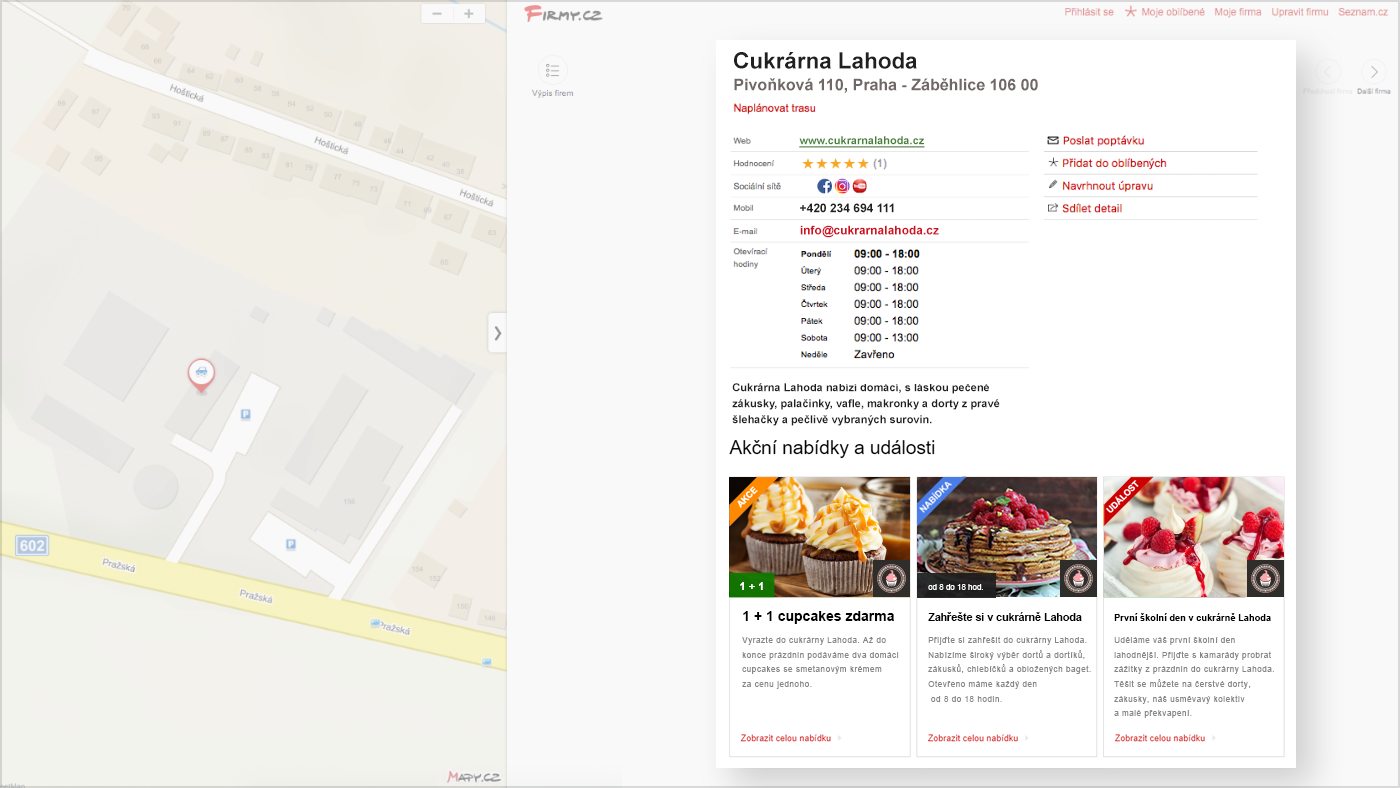 Special offers
In the Full Seznam profile, you can also inform potential customers users.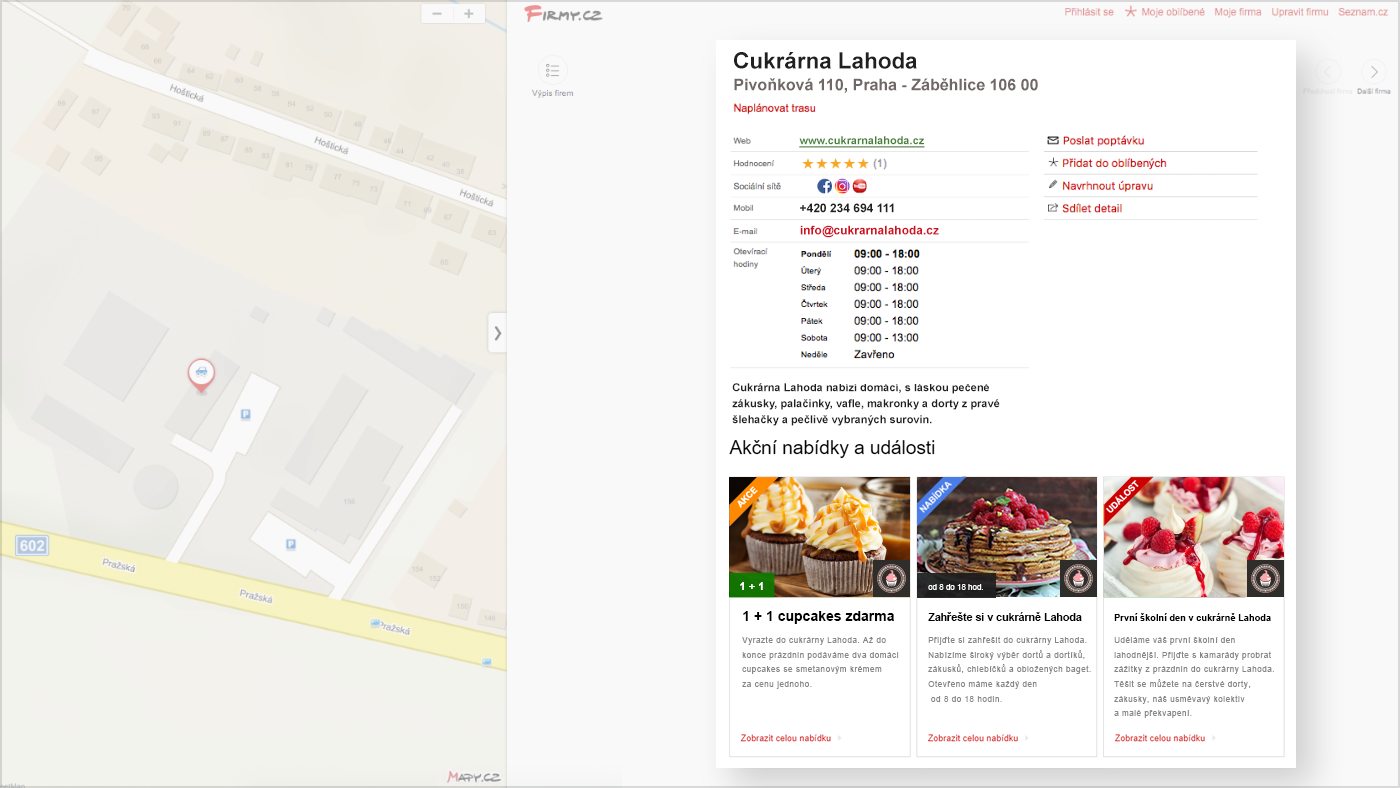 You manage your own visibility
Your investment under control
The higher the daily investment you set for individual categories, the higher you will appear in the results on the Firmy.cz, Mapy.cz and Seznam.cz snippet ads.
You can find out which position you are at for selected keywords in the Search tab.
The Homepage tab shows you how many impressions your investment gets you in the box on the Seznam.cz homepage.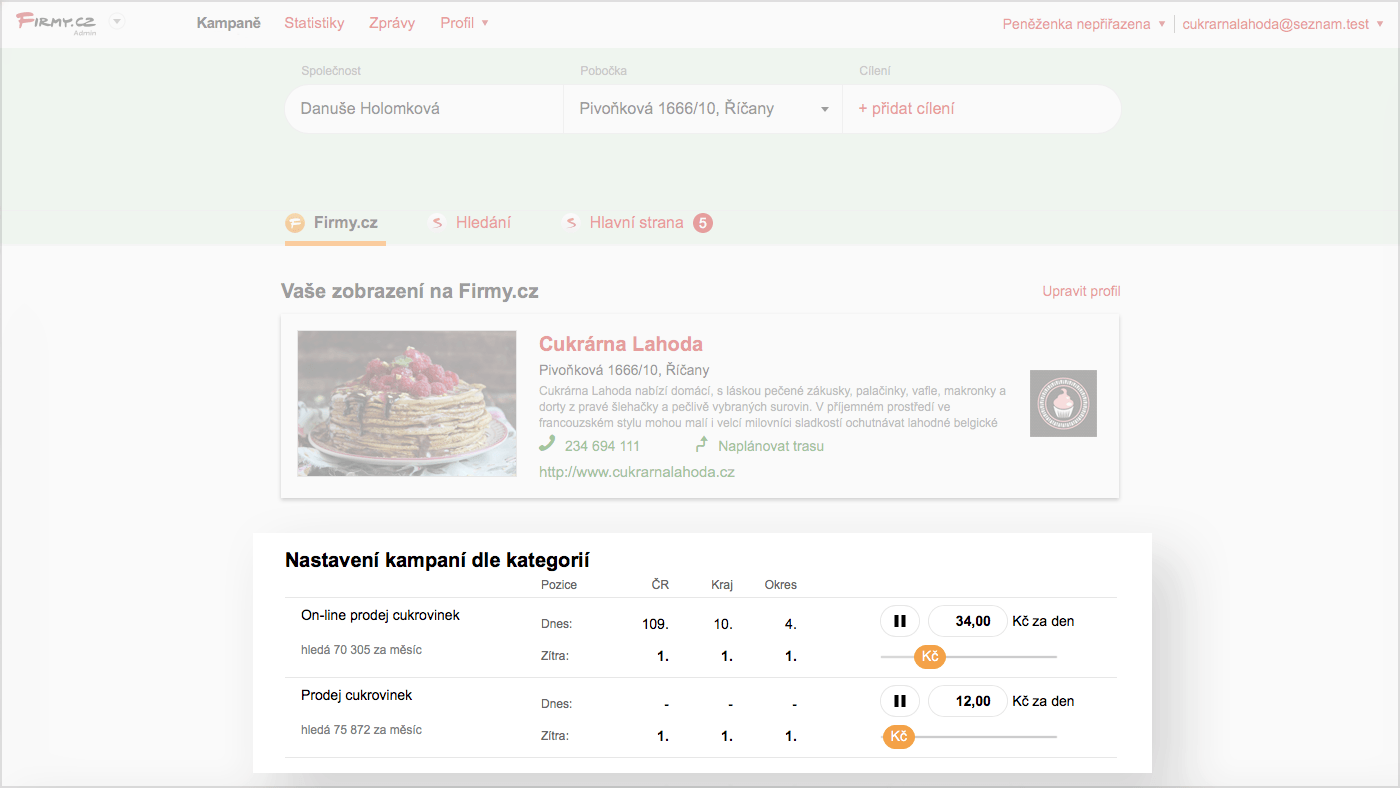 Traffic statistics for your profile
Comprehensive statistics show how many people saw your company and how many clicked on it.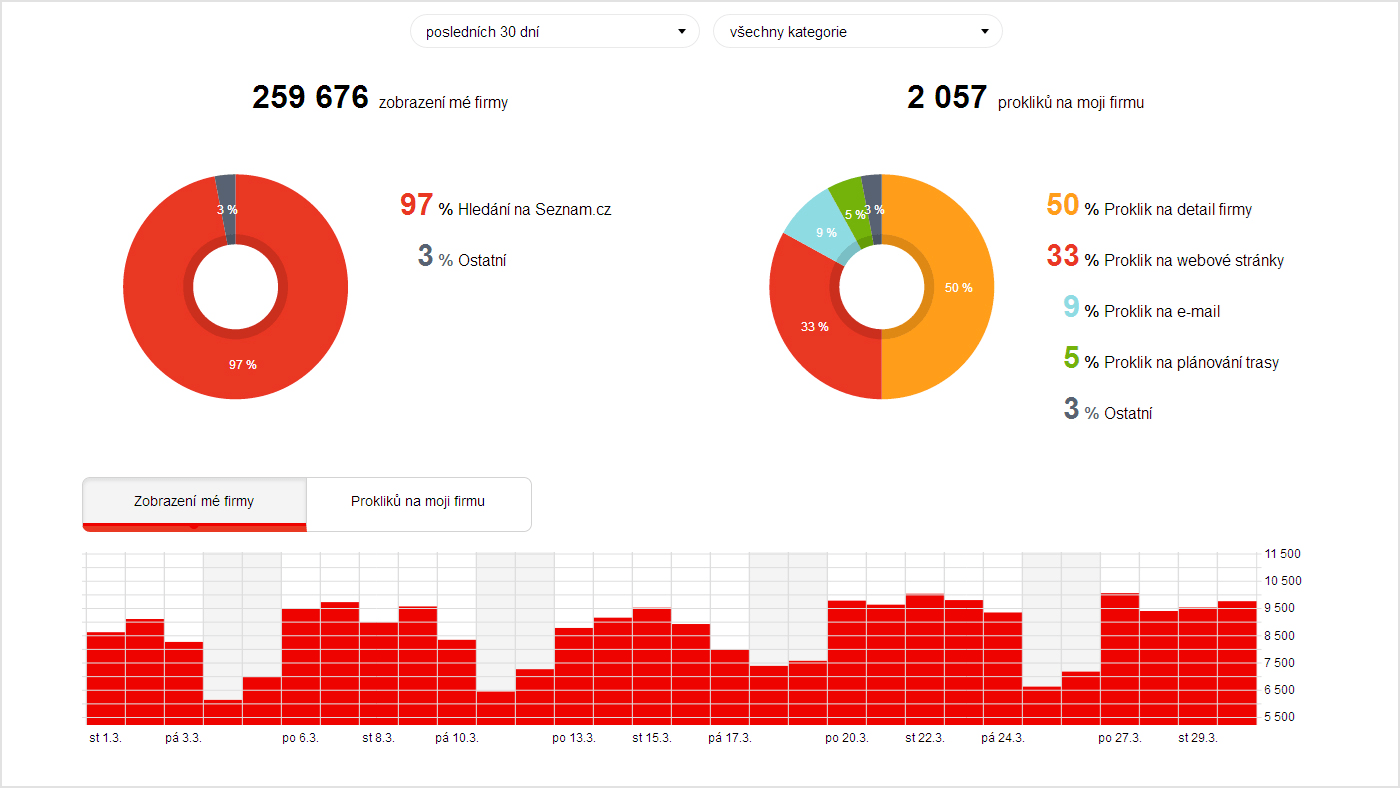 What else you get
Profile without links to competitors
Your profile is just yours. There are no links to your competitors' profiles.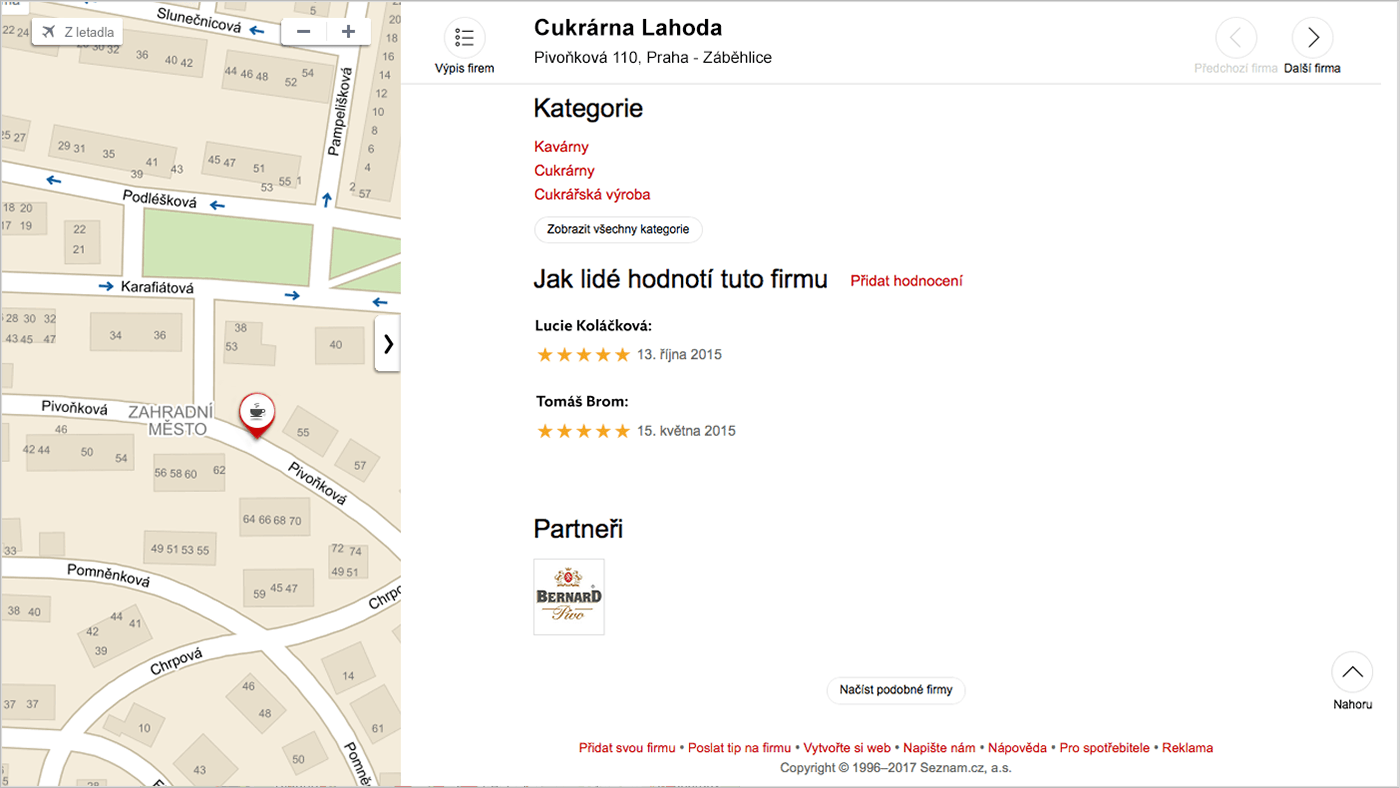 Kde zjistím víc
More about Full Seznam