Seznam naplno helps you win new customers
Your business will be visible on the most frequented Czech websites: on the Seznam.cz homepage and search results, on Firmy.cz and on Mapy.cz.
Seznam naplno now offers 5 tariffs. You can find details about the individual tariffs under the tab Typy reklamy.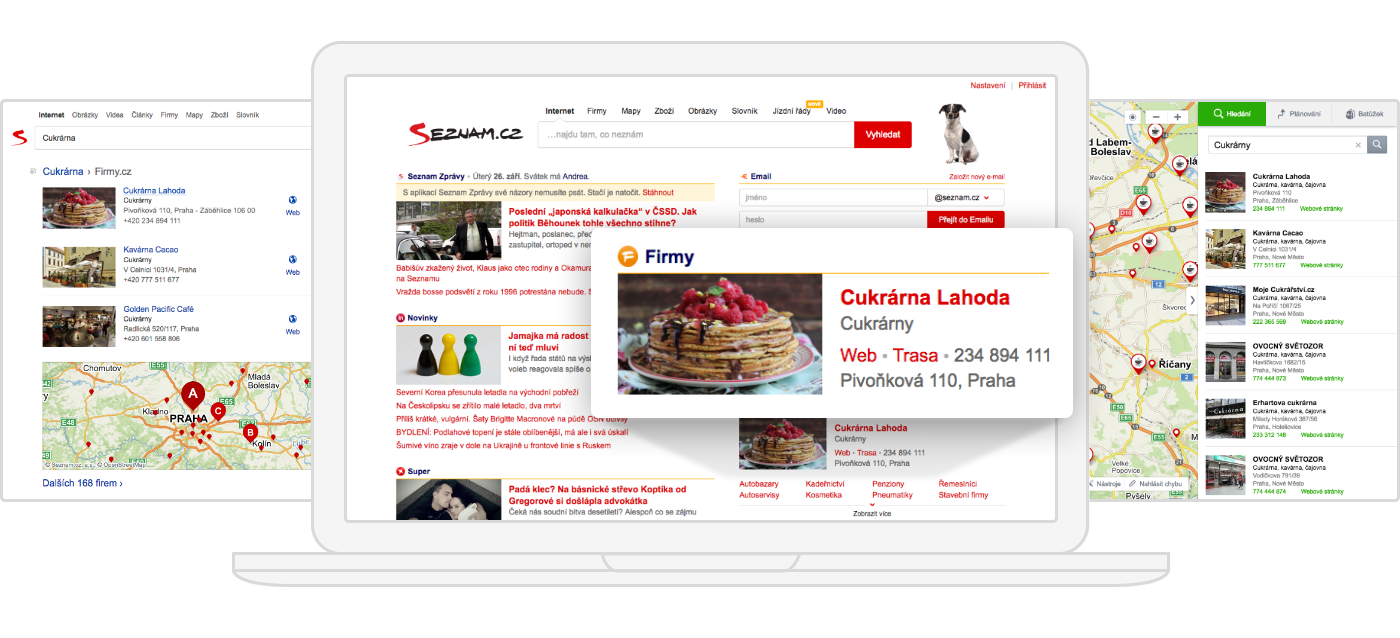 Why you need a Seznam naplno company profile
You will reach almost half the Czech online population

Around 4 million people visit the Seznam pages where your ad appears every day.

You will be visible to whoever is looking for you

You will catch people's eyes at the moment they are actively searching for what you offer. They'll never be happier to see you.

You have full control

The higher your daily investment into keywords, the higher you will appear in search results the next day.

Thanks to statistics, you're in the know

Clear statistics show you how many people have visited your profile and which keywords pop up most often.

Two-fifths of users on mobile

42% of people search Firmy [Companies] from a mobile device ‒ more than 480,000 real users per week ‒ and 24% of people search Mapy [Maps] on a mobile device.
On Firmy.cz you can only add companies actively pursuing business activities within the territory of the Czech Republic.
Seznam naplno tariffs
What you get:
Free
Startuj
(from CZK 10/day)
Rozvíjej
(from CZK 20/day)
Získávej
(from CZK 40/day)
Profituj
(from CZK 80/day)
Basic company profile
Visitor statistics
Exclusive email on own domain with Email Profi
Priority positioning and highlighting on search, Firmy.cz, Mapy.cz
Action button displayed in profile
Profile without links to similar companies
Smart campaign setup
Full company profile on Firmy.cz and Sreality.cz
Number of categories in which the profile can be classified
2
4
6
12
unlimited
Offers and events
1
3
6
9
Targeting a different location
1
3
7
50
Social networks displayed in profile
1
3
6
6
Classifieds from Sreality.cz, Sauto.cz, Zboží.cz
3
6
6
Display on the homepage of Seznam.cz
Priority sending of bulk sales emails
Multiple URLs in company profile
Company video presentations
Profile can be designated as a "Verified Company"
Detailed campaign setup
Professional optimization – Seznam naplno specialist
Company profile branding
Consultation on meeting long-term goals ‒ Seznam naplno consultant
Own company icon on mapy.cz
Top rating
Kde zjistím víc
More about Seznam naplno