On Kupi.cz, more than 1,8 million people view 5 million flyers every month
They use them to decide where to do their shopping. Kupi displayed up to 1 million people per week. Of these 62% are women.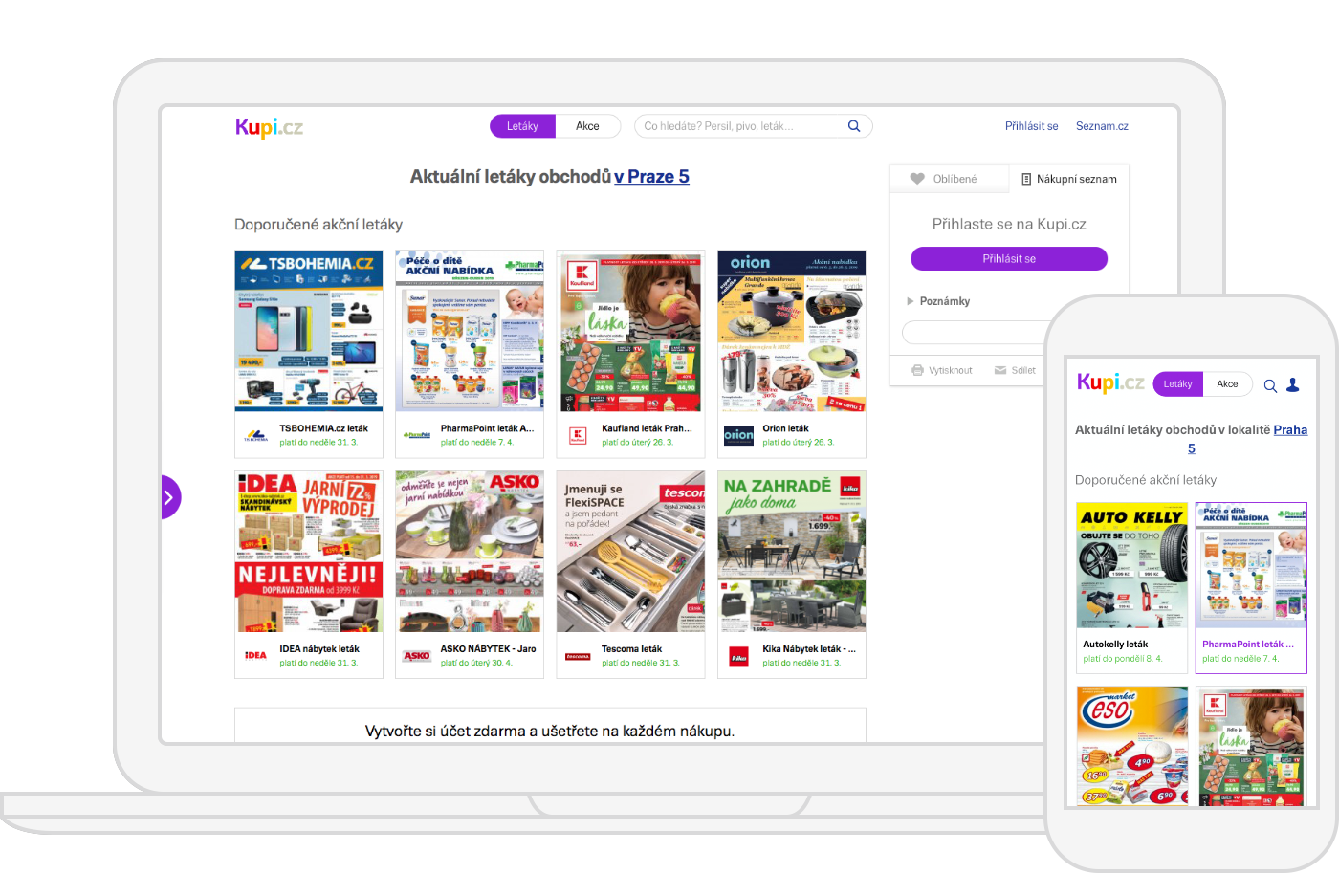 Why advertise on Kupi.cz
The largest Czech portal with leaflets and catalogues

More than 1 million people plan their shopping, search for consumer goods and compare prices on Kupi.cz every week.


Reach people near your stores

People look at deals and leaflets from stores near them. A map will take them to the nearest brick-and-mortar store.

Be seen by those who want to shop

Those who are interested in them will see your leaflets, catalogues and goods on sale. Your ads aren't intruding, but help shoppers find what they need.

Appear in their shopping lists

Customers add goods to their shopping list by clicking directly on the leaflet. Then they can print it out, send it by e-mail or view it in-store in our mobile app. In the case of e-shops, the flyer takes them directly to the page where they can make their purchase.

Gain loyal customers

People will receive your leaflets and information about discounts on specific goods by e-mail. Regular deals create loyal customers.

Advanced targeting

You can display your in-store offers or goods of your choosing on your banner. You can even target specific brands or products. You can target selected regions or use behavioural targeting by interests, age or gender. Targeted advertising is much more efficient than non-targeted.

Statistics will show you what people are responding to

Detailed and comprehensive statistics will tell you who your customers are and which goods and offers they are interested in.

Two fifths of readers are on mobile

50% of people view leaflets on Kupi.cz from their phone, which corresponds to 500 thousand real users a week.
More about Kupi.cz
More about Kupi.cz