Reach listeners on air
Record increase in listenership in 2020. 187 000 listeners per week in Prague and the Central Bohemian Region.
Why advertise on Seznam.cz radio platforms?
Tune in!

Expres 90.3 FM and Classic Praha 98.7 FM or ONLINE at www.expresfm.cz and www.classicpraha.cz.

Reach listeners anywhere and everywhere

You will reach your target group in a non-intrusive and pleasant way via the radio, whether they are on their way to work, getting ready for a party or spending time in their gardens. The radio delivers easy-to-remember information that suits any activity, making it work better than other media. In addition, you can listen to the radio through the websites www.expresfm.cz and www.classicpraha.cz, as well as the player, which is part of the Seznam.cz homepage.

Made-to-measure advertising formats

You can choose classic spot campaigns with various footage, the sponsor of a show or program, a user competition, or the direct airing of your program. We will be happy to prepare an individual offer according to your specific ideas.

MOBIL / TABLET

Our radio stations have their own mobile app for iOS and Android: Expres FM. It is available for free in the App Store and Google Play.

Hearing is believing

People can listen to radio broadcasts with their eyes closed. This makes it possible to establish a more intimate relationship with the listener, which is great for building a close relationship with a brand or reinforcing the brand as a part of people's personal lives.
We do not just sell radio commercials – we offer a personalised way of building your presence on our radio platforms.

Proposition a unique target group

People are loyal to their favourite station and rarely switch to other channels. Radio is their all-day companion.

Radio advertising really works

Radio advertising presents an ideal way to raise awareness of your brand. It appeals directly, evokes emotions, and stays in the mind of your new customer. Plus, it is a flexible medium that can be developed and adapted to your needs.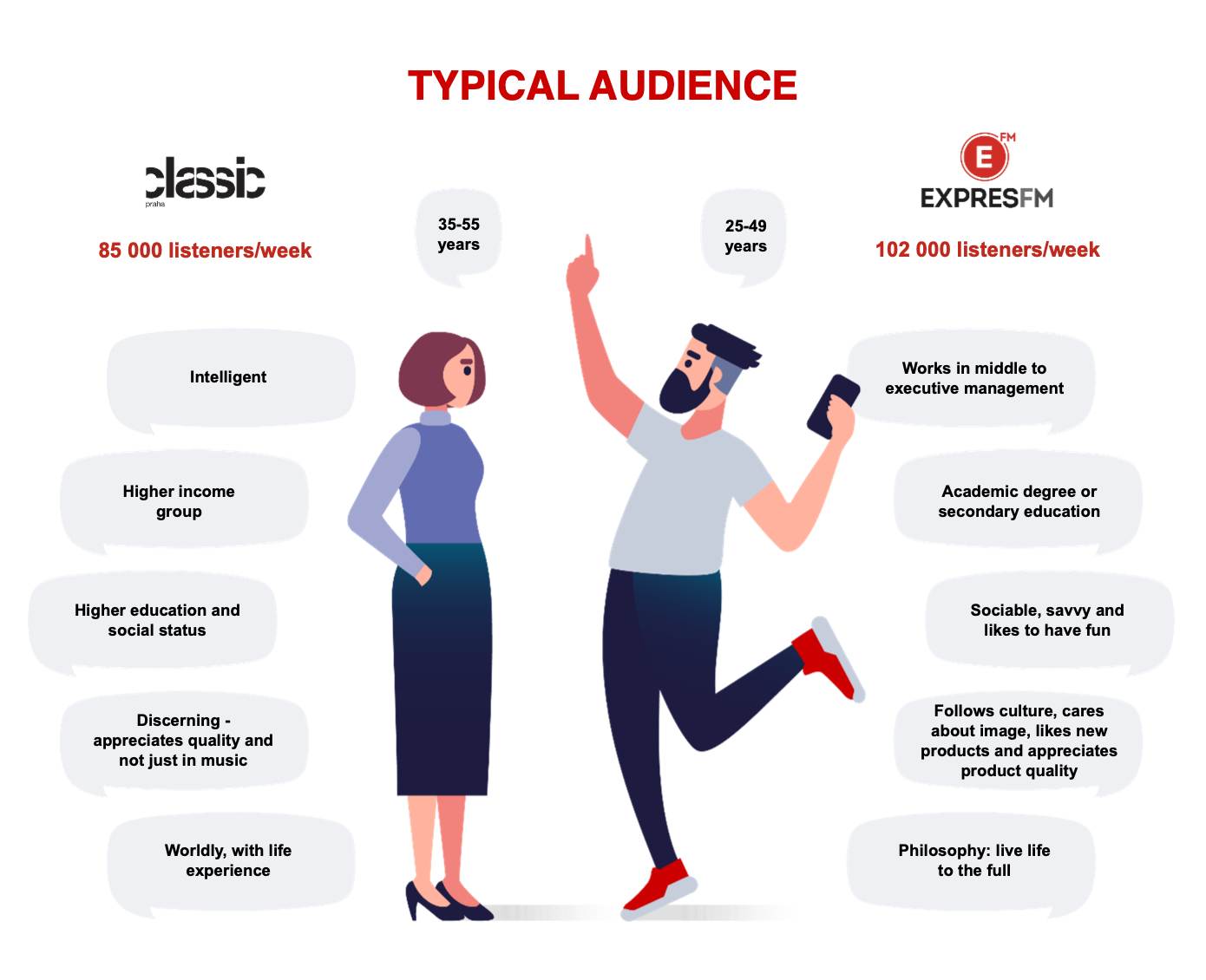 Kde zjistím víc
More about Seznam radios